With electronic music rising in popularity there is a ton of new people to the scene. While growing the scene is always a plus, this also means that there's gonna be stuff done at shows that isn't cool. So follow along and lets learn how to enjoy the music and also not ruin the experience for yourself or others around you.
Don't
Don't wait until the last minute to buy tickets
This is often one that most people don't think about. The scene is growing and that means more  and more people are going to shows, however the venues are still staying the same size. If you see a show you want to go to BUY TICKETS ASAP. Countless times I see people complaining about tickets to their "favorite dj" being sold out a couple days before the show. DON'T WAIT, tickets are selling out faster than ever so if you want to go see a dj, buy the tickets as soon as you can. This way you know you're going to go and don't have to fight with the dreaded scalpers selling a $20 ticket for $80 (true story).
Don't shove through the crowd to get up front
As a person who shows up to shows when the doors open, this is the most frustrating thing to deal with. If you want to be up close, show up early. It's common sense really but some people just do not understand this. Don't shove other ravers while trying to get a good spot on the rail. When people try to shove their way to the front it just creates one big clusterfuck where people get jammed together and this is where overheating and injuries occur. If you don't show up early, don't jam up front. Plain and simple.
Don't get too fucked up
This is the most important tip of all and it is the one that can have serious consequences. We get it, it's a blast to get drunk and go to a show. It's also fun to take drugs and go to a show. BUT it's also fun to remember the night/actually live. The edm scene is notorious for drugs and is constantly getting a bad reputation because people don't know their limits and end up OD'ing and sometimes even dying. It's gotten so bad that some cities are threatening to ban all edm shows in general. This is a big issue and is something that has the potential to ruin shows for everyone. So if you plan on drinking/doing drugs, please be careful and know your limits. Have friends with you that can help you out if something goes wrong, but god damn please be careful and don't end up like this guy.
Don't let anyone bring you down
Shows are all about having fun, so have fun! There's always going to be a few people that are being idiots and put a damper on things but you've just got to shake it off. Music is such a great thing, it can do so many things for so many different people. Being at a live show is one of the best feelings in the world because for four or so hours you don't have to think about the real world and you can just dance and let the music take control. There's a surreal feeling when you're surrounded by your friends (or soon to be friends) in the middle of the crowd just vibing off one another. It's a feeling that I've fallen in love with and it's something that everyone should experience. So next show you're at, just have fun, it's really that simple (and easy).
(Bitch) Don't kill my vibe
Sorry, I just had to say it. Every time I hear the word don't I always think of "don't kill my vibe", thanks Kendrick. But yeah, don't kill anyone's vibe at shows. If they're having fun, let them.
Do's
Do save up money
Ticket prices are increasing more and more, which means you need to start saving if you want to go to more than one a month. It's an expensive hobby being a rave chaser but it's something that I love doing and will continue to do regardless of the cost. Besides ticket prices you also have to factor in the cost of gas, food, drinks, and merch you might buy. It adds up pretty quickly, so in order to save yourself from going flat broke, save up in advance. Also if you can, buy tickets when the presale comes out. This is the cheapest price you can get tickets for and after presale sells out the prices rise. Do yourself a favor and act quick and your bank account will thank you. There's also a lot of other ways to save money on tickets, this article gives more advice so check it out if you want to lessen your spending.
Do talk to people
I can't stress this point enough! I can't tell you how many friends I've made by talking to the people around me at shows. It's so easy because you already have one thing in common and that's music. If you need to break the ice, talk about the dj you're about to see or maybe the opener. Doing this is how I met two of my friends, Mallory and Korrine at Electric Forest. While watching Bassnectar's set my friends Kyle and Christian and I got to talking with the two of them and we ended up becoming friends in that short period of time (Pic on the right). So much so that we already have plans to meet up at this years EF. Or if you want an easier, fail proof method of making friends you can offer the person next to you some water if you have some and I guarantee you will become best friends with them.
Do show love for your favorite dj without fear of judgement
Show your love for your favorite artists in creative ways. Make customized outfits, make kandi, make a cool sign or banner, carry around a life-size cut out of your favorite artist, whatever. One of my favorite parts about the edm scene is the creativity of everyone that goes to shows. I'm always amazed when I see the outfits that people spend weeks on in preparation to see their favorite djs. Another great thing is the lack of judgement there is. You can do/wear/dance/sing anyway you want and people will vibe with you instead of judging you for your passion. This is something that I really enjoy because I am the world's worst dancer and yet I dance my heart out without the fear of judgement and I absolutely love how free I feel.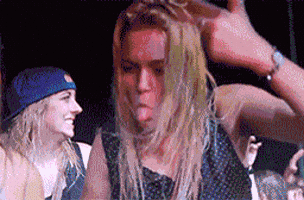 Do bring water
Water is  essential in you having a great time. After hours of dancing and singing water will be your lifesaver. Make sure you bring water with you in the crowd because there is nothing worse than being up front for your favorite artist and then having to leave the crowd to get a drink because you're about to pass out. This not only sucks for you, but also for your friends because once you leave your spot it's almost impossible to get back to it. Also like I said earlier, water can make you friends so easy. If you see someone that looks like they're struggling, offer them some water. You'll get good karma, help out a fellow raver, and most likely make a friend in the process.
DO YOU
Whatever you do, do you! Have fun! Sing your lungs out, dance your heart out and just live. Shows are were you have so much freedom so use it to have the best time of your life. If you just do you, you'll see why people love this scene so much 🙂